Wright Brother's Day
Wright Brother's Day is a day of observance dedicated to the accomplishments of Orville and Wilbur Wright who are credited with making the first flight in a heavier than air machine.
Known as the Wright Brothers, Orville and Wilbur began their quest to build a flying machine while working at a bicycle repair shop that they owned and operated in Dayton, Ohio. There they tinkered with different ideas until they came up with one that seemed feasible.
Throughout history, other inventors had tried to build a flying machine, but without success. The Wright Brothers took their designs and engineered a model airplane that they felt would fly under it's own power.
On December 17, 1903, near Kitty Hawk, North Carolina, the brothers made aeronautical history and revolutionized travel, trade, and communications. Although the first flight only lasted 12 seconds, it changed the world forever.
In 1963, the U.S. Congress passed a joint resolution declaring Wright Brother's Day on December 17th of each year and authorized the President of the United States to issue a formal declaration on that day each year proclaiming it as a day of celebration and remembrance.
Wilbur Wright was born April 16, 1867 and died May 30, 1912.
Orville Wright was born August 19, 1871 and died January 30, 1948.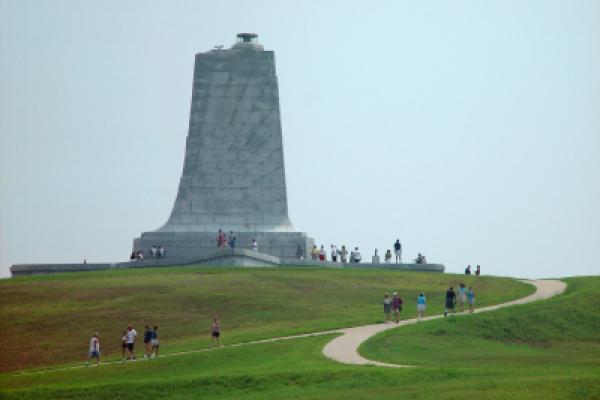 The Wright Brothers National Memorial
at Kill Devil Hills near Kitty Hawk, North Carolina.